Today Apple and Google released even more information as it aims to increase transparency about its "exposure notification" API for COVID19. The new information today includes brand new screenshots of upcoming features we can expect in iOS 13.5, guidelines for developers and public health officials, and finally sample code for the API.
The majority or questions surrounding this new API was in regards to its actual implementation and what it will look like on the back end, and ultimately in practice. With a set of screenshots today, the two companies have answered that question.
The released screenshots highlight what would happen if someone tested positive for COVID19. They are first asked if they wish to share their positive test result with people they have been in contact with. If so, those people will be notified that they had been in contact with COVID19. The screenshots also give public health officials and developers an idea of how to frame the UI for users in a way that makes it simple, and straightforward to use.
Apple and Google's decision to do so comes as some experts warn that if not easy to use, elders, who are statistically prone to the virus may opt not to use it. The companies are tackling the issue with App Store style guidelines for these apps.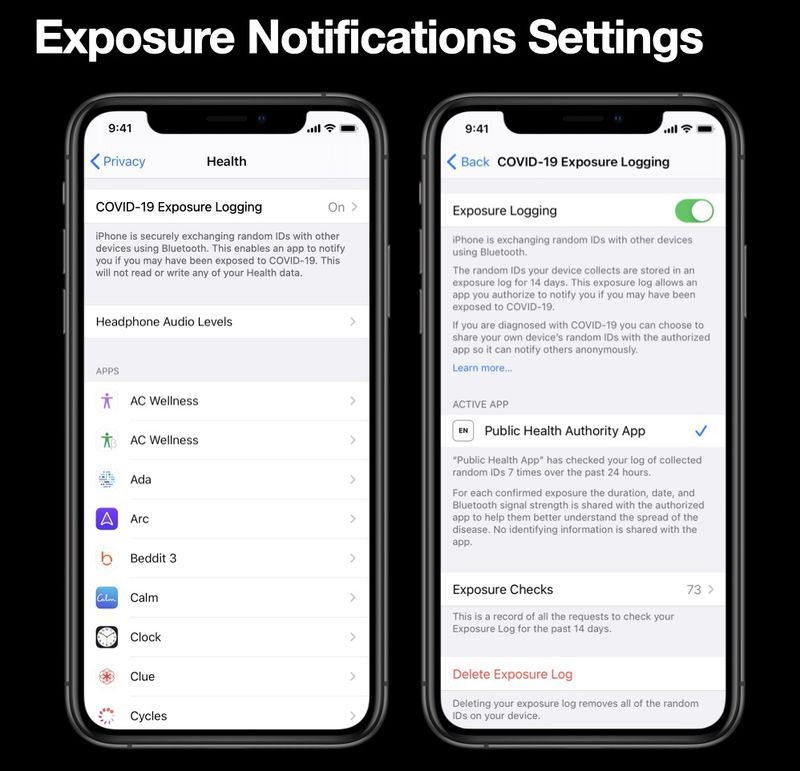 We also learned that iOS 13.5 will include a new settings page, allowing for users to see which apps are using the API and or their data. Users will be able to choose which app is actively logging them, and check on whether they've been exposed to the virus or not.
The companies also revealed new requirements that developers must follow to properly use the API:
Apps must be created by or for a government public health authority and they can only be used for COVID-19 response efforts.
Apps must require users to consent before the app can use the API. Apps must require users to consent before sharing a positive test result with the public health authority. Apps should only collect the minimum amount of data necessary and can only use that data for COVID-19 response efforts.
All other uses of user data, including targeted advertising, is not permitted.
Apps are prohibited from seeking permission to access Location Services.
Use of the API will be restricted to one app per country to promote high user adoption and avoid fragmentation. If a country has opted for a regional or state approach, Apple and Google are prepared to support those authorities.
The API has been hit hard with privacy-related concerns and doubt amongst government over its effectiveness. Only just recently, Germany joined the boat after it failed to rally enough support for its own system. after initially rejecting the Silicon Vallery approach. In light of recent tension with Germany and after the EU said the companies are holding countries "hostage", the companies are pushing back. In the requirements above Apple and Google say "If a country has opted for a regional or state approach, Apple and Google are prepared to support those authorities."
Apple and Google are expected to launch the API in mid-May, with a current beta version available to developers with iOS 13.5 beta 3.