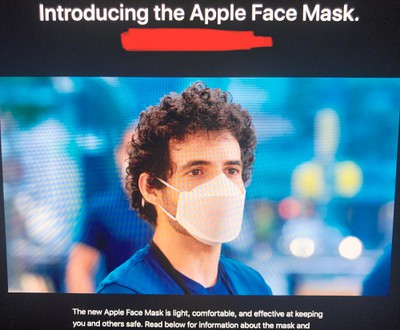 Bloomberg reports that Apple is making its own face masks for retail employees called the "Apple Face Mask". The mask will be worn by employees to help limit the spread of COVID19.
According to Bloomberg, the mask was designed by the same team that designs the iPhone and iPad. A picture provided to MacRumors shows the design of one of the mask.
The Apple Face Mask feature 3 different layers to filter incoming and outgoing particles and can be washed as many as 5 times. Per the report, the masks are "typical in Apple-style" with a unique and large opening at the top and bottom, and can be adjusted to fit the person's ears.
Apple has told employees that the masks were designed and made completely by Apple, emphasizing that it had "conducted careful research and testing to find the right materials to filter the air properly while not disrupting the supply of medical personal protective equipment."
Another mask being used is the "ClearMask," the first FDA approved fully transparent mask developed and produced by ClearMask, announced in August of this year. The mask allows people who are deaf, or have hard of hearing to better understand what others are saying.
Apple which confirmed the news to Bloomberg will start shipping the Apple Face Mask to staff over the next 2 weeks.